Rediscovering Our Founding Spirit:
Our Customers' Delight is Our (the Company's) Delight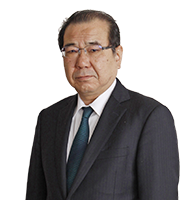 In the 43 years that have passed since our founding, our unmatched scale and product lineup along with strong regional loyalty have enabled us to open 15 large-scale stores throughout the Kanto region. However, we now find ourselves in the midst of the so-called fourth industrial revolution, and society, industry, and people's lifestyles are evolving at an unprecedented pace due to the advancement of technology. A dizzying array of devices have been born, everything is connected to the internet, and the amount of information being exchanged is growing at a staggering rate. In this world we live in, society, industry, and every field imaginable is being redefined, and this represents new business opportunities that could transform both business and our very way of life as we know it.
After debating how we should evolve in the face of this new reality, our Group decided to return to its founding principles and clearly redefine its action guideline.
Our corporate group name is derived from the words JOY and FULL. The reason why we do business, the mission we hope to accomplish, is to be a company that fills the lives of its customers and employees with joy. And in doing so, we want to continue to grow together with people from all regions, as well as our clients and our shareholders.
And so we reaffirm our commitment to our common values: Making people happy and filling their lives with warmth and smiles through our products and stores. It's time we returned to our roots.
Going forward, Joyful Honda Group will continue to evolve, always looking for ways to contribute to society while holding its core philosophy close to its heart: Our Customers' Delight is Our (the Company's) Delight.
[Review of the first half of FY2019]
At the Joyful Honda Group, we are pushing forward with structural reform in four areas that we have been working on from the previous fiscal year by setting the current fiscal year from June 21, 2018 to June 20, 2019 (the 44th period) as a "Year to finish structural reform" with the aim of having further growth and development of the Group. For the first half of FY2019, our major efforts and performance were as follows:
For the "structural reform of business," we integrated our subsidiary in the previous fiscal year and are working on expanding the integration effect in the reform business, one of our strategic areas.
We analyzed issues in Joyful Honda Chiba Store that restarted business after being fully renovated in April 2018 to rebuild our future store management policy. In addition, we are working on the next step for new stores (a hardware store for business use and a store specializing in sales of pet items), both of which were opened in March 2018.
For the "structural reform of merchandise," we are continuing with a reform of the merchandise process including a review of the form and route of transactions and individual goods to enhance product appeal from the viewpoint of customers.
For the "structural reform of organization," we established a new Merchandising Group to strengthen our sales capabilities, with a new group system consisting of the Sales and Merchandising Group, Merchandising Group, Store Development Group and Administration Group. Clarification of these functions of organizations and areas of responsibility helps us to speed up ongoing organizational reform and enhance management capabilities of budget implementation.
For the "structural reform of expenses," we worked to simplify, streamline and centralize store management operations and integrated the administrative functions of certain subsidiaries with the head office for the purpose of optimizing the entire group's operations.
Under these circumstances, for the first half of FY2019, net sales reached 74,892 million yen, up 0.3% Y-on-Y. Operating income and ordinary income were 4,190 million yen, up 0.7% Y-on-Y, and 4,863 million yen, up 9.1% Y-on-Y, respectively. Profit attributable to the parent company shareholder, however, decreased 46.0% Y-on-Y to 1,504 million yen as we recognized an impairment loss of 2,472 million yen related to Joyful Honda Chiba Store in extraordinary loss.
The Group announced a revision of the full-year financial forecast on February 1, 2019 as follows. The Group revised the previous forecast after considering the financial results for the first half and recent performance and reviewing the cost plan in the second half. We will make a concerted effort to achieve this revised forecast.
Revision of the full-year financial forecast for the year ending June 20, 2019 (released on February 1, 2019)
(June 21, 2018 to June 20, 2019)
Net sales
Operating income
Ordinary income

Profit attributable to the parent company shareholder

Profit per share
Previous forecast (A)

Million yen

152,200

Million yen

8,390

Million yen

9,320

Million yen

5,800

Yen

83.78

Revised forecast (B)

149,560

8,300

9,460

4,360

62.98

Amount of increase (decrease)
(B−A)

(2,640)

(90)

140

(1,440)

–

% change

(1.7)

(1.1)

1.5

(24.8)

–

(Reference) Financial results for the previous fiscal year
(Year ended June 20, 2018)

148,676

7,981

8,800

5,594

76.85
Yukio Yaguchi
President and CEO
JOYFUL HONDA CO., LTD.