Joyful Honda is working on "creation of stores with a lower environmental impact" and "promotion of environmental activities through products" for the sake of a more prosperous future.
Creation of stores with a lower environmental impact
A Zero-Energy Building (ZEB) is a building which provides a comfortable indoor environment with significantly low energy consumption annually through energy conservation by using high-heat insulation materials, sunlight shading, renewable energy and highly efficient equipment, as well as through energy creation with solar power generation, etc.
For the goals of the ZEB Initiative, please see: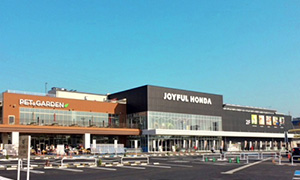 Promotion of Zero-Energy Building (ZEB) Initiative
The Home Center Chiba Store has completed its renovation and reopened on April 23, 2018. The store received a support grant from the fiscal 2017 ZEB Demonstration Project, which is aimed at promoting energy conservation investment by the Ministry of Economy, Trade and Industry. Actual energy consumption recorded in the 1st-year verification was found to be 67.5% less than a standard building and 15% down from the ZEB design value, meaning that the store achieved its targets.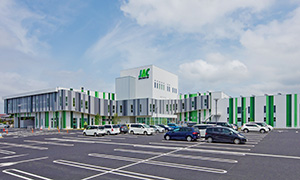 The renovation of Joyful Athletic Club Tsuchiura has been completed and a grand opening was held on July 15, 2019. The building is the Company's second ZEB building to be constructed with a subsidy from the FY2018 ZEB Demonstration Project. The building is Japan's first athletic club to obtain ZEBReady status.
Reduction in CO2 emissions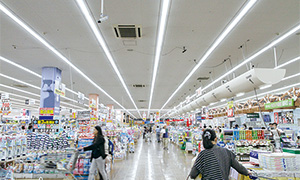 LED lighting
By replacing store and head office lighting with energy-saving LED lighting, adjusting to proper illumination levels, and reducing power consumption, Joyful Honda is striving to prevent global warming through a reduction in CO2 emissions.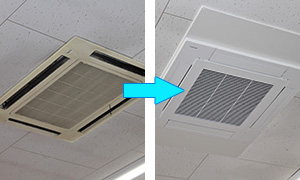 Air-conditioning
In line with our maintenance program, we are replacing older, inefficient air-conditioning units in stores and head office with new, more efficient models. Electric air-conditioning has been replaced with more energy efficient GHP (gas heat pump) units in ten of our 15 home centers. In addition to reducing crude oil-equivalent energy consumption, we are taking the leveling out of power demand into consideration at our facilities. Further, in the Satte and Nitta areas, we are striving to prevent global warming and reduce CO2 emissions by switching from LP gas GHP to city gas GHP, which has a lower CO2 coefficient, in line with new infrastructure development.
Replacing lighting and air-conditioning units has helped reduce CO2 emissions of the entire Group by more than 37 percent over five years.
(CO2 emissions: 38,011 tons April 2014 – March 2015: → 23,769 tons April 2019 – March 2020)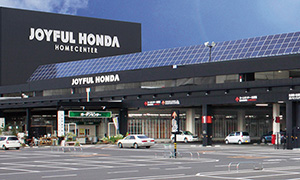 Solar power generation
We have installed solar panels at our large stores (the Chiba New Town store and the Chiyoda store), and are making efforts to utilize renewable, natural energy.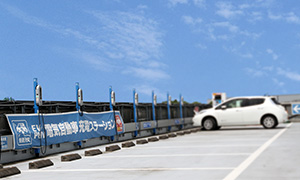 Electric car battery-charging facilities
We have installed ordinary battery chargers and rapid battery chargers for electric cars at all stores (except the Chiba store) in line with the spread of eco-friendly electric cars.
5 large stores: 20 ordinary chargers and 1 rapid charger in each store
9 medium stores: 2-3 ordinary chargers and 1 rapid charger in each store
Total number of vehicles using chargers per year across all stores: Approximately 26,000 (April 2019 – March 2020)
Promotion of environmental activities through products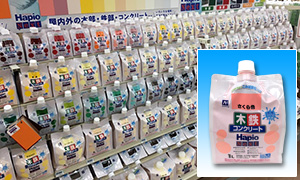 Environmentally friendly packaging containers
We are promoting adoption of environmentally friendly product packaging for merchandise packaging and containers with the aim of achieving labor savings in waste disposal.
* The photograph shows a sales floor for water-based pouch paints that enable us to decrease trash and reduce CO2.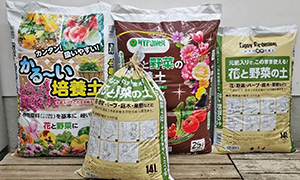 Unwanted soil collection service
Our garden centers provide a collection service for unneeded soil and uses the recycled potting soil made from the recovered soil to make potted flower baskets.
* The soil collection service is available only to customers who have purchased potting soil designated by the Company and bring the unwanted soil placed in its empty bag to our stores. The collected soil is intended for recycling and therefore must be free of things like trash, branches and pebbles.
Reducing waste by recovering resources at stores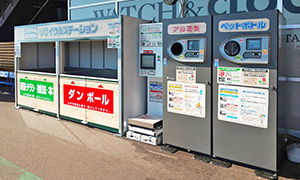 Recycling Station
The Home Center Utsunomiya Store and Satte Store have set up a recycling station for PET bottles, empty cans, and paper, in an effort to reduce waste and recycle reusable resources.
Customers who cooperate with the recovery of these resources will receive points that can be exchanged for Joyful Honda gift cards. The recovered waste is delivered to a private-sector recycling operator, where it is transformed into new resources at recycling plants.