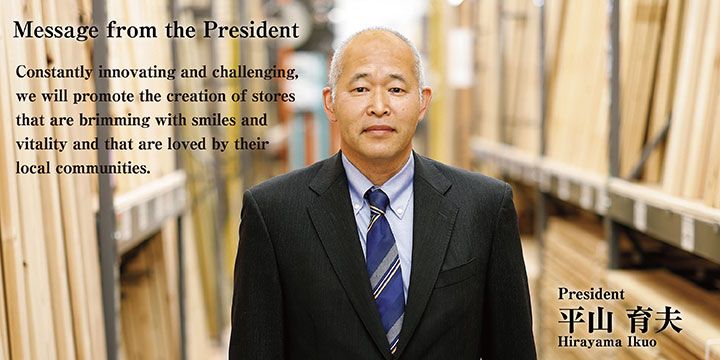 When our founder, Shoya Honda, traveled to the United States, he was impressed by the emergence of suburban stores as the motorization of North American society progressed. One type of store that particularly caught his eye was the home center. Convinced that consumers in Japan, their food and clothing needs having been met, would soon turn their eyes toward their living environments, he decided in 1975 to establish "Joyful Honda," with the theme of "making living environments richer and more comfortable."
The company's name, "Joyful Honda," is imbued with the founder's wish to bring smiles and enjoyment and to create joy and dreams together with customers. Even today, as needs and channels have become increasingly diverse, the joy of local communities is our joy, and eliminating customers' "negatives" and delivering new value has been our style since the very beginning.
Without being bound by the conventions of the home center, we will build stores that are connected to locals with strong bonds of trust and that are loved by their local communities. We also aim to create stores where our employees can feel pride and joy in working in those local communities and in our stores.
We will continue our "innovation" and "challenge" to be the kind of stores that customers will think of first, both in normal times and when they have a problem to solve.
Never forgetting our beginnings, we look forward to welcoming you to the new Joyful Honda!
[Review of FYE2023]
We have carried out various measures to realize our corporate mission, "Co-create the Joy and Dreams of Communities by Securing Essential Items and Making Proposals for a Better Life," stated in our Medium-term Management Plan.
As an action for Securing Essential Items to enable visitors to experience ultimate one-stop shopping, we aggressively sold highly professional materials and tools that are used by artisans, enhanced the lineup of merchandise groups by, for example, renewing and expanding disaster-prevention goods sections, and expanding year-round "everyday low price (EDLP)" products to offer affordable and reliable prices.
For Making Proposals for a Better Life, we assigned dedicated personnel to select products that accurately meet the changing potential needs and demands of our customers, expanded our range of products imported directly from overseas, and focused on the planning and development of our own premium products to differentiate ourselves from our competitors by creating an attractive sales floor where customers can find new lifestyle spaces.
In April 2023, we opened JOYHON PARK Yoshioka, a new store located in Yoshioka-machi, Kita-gunma-gun, Gunma, which embodies these efforts. The concept of the park as a whole is to "bring entertainment to everyday life". The park aims to be the only shopping district of its kind, offering one-stop shopping to create an "extraordinary experience" that arouses intellectual curiosity and makes people want to go back again and again.
We position JOYHON PARK Yoshioka, the first supersized store we have opened in twelve years, as a flagship store that will become regionally dominant in collaboration with existing stores.
From the aspect of "Co-creation of SDG solutions with local communities," our initiative to combat global warming and reduce greenhouse gas emissions, we are working to achieve carbon neutrality by utilizing renewable energy and introducing solar power generation and battery storage systems in our stores as an effort to give consideration to decarbonization and the local environment. In the fiscal year under review, we started using solar power generation systems at four of our stores, including the Fashion Cruise Hitachinaka store, Satte store, Nitta store, and JOYHON Yoshioka store, and will be introduced to more stores in the future.
While promoting these measures, both corporate profits and the lives of employees were heavily affected by an unexpected rise in heating and lighting expenses caused by geopolitical risks, etc.
Amidst this backdrop, we have implemented wage increases to maintain and improve the standard of living of our employees, and have invested in the creation of workplace environments to enable employees to work with peace of mind and enthusiasm without having to worry about the rising cost of living.
As a result of these efforts, net sales for FYE 06/20/2023 were 123,362 million yen (down 0.2% year-on-year), operating income came in at 11,095 million yen (down 9.3% year-on-year), ordinary income was posted at 12,240 million yen (down 7.4% year-on-year) and profit was 8,528 million yen (down 23.2% year-on-year).
Sales by major business segments and merchandise groups for the fiscal year under review were as follows.
Housing-related segment
Amid continued cost increases due to rising raw material prices and distribution expenses, and rising costs associated with the weak yen, we focused on curbing the pressure on profit margins by passing on the cost of goods at precisely the right time. The price of materials, such as wood and steel remained high after peaking in the middle of the fiscal year, causing customers to refrain from buying high-priced products. We strategically shifted to higher value-added products, such as professional tools and famous brand work clothing in order to curb the decline in sales price per product. Sales of household gardening products and houseplants grew substantially due to the COVID-19 pandemic, but have peaked.
Due to the hot weather over the summer of 2022 after the wet season ended early, sprinklers, awnings, and work clothes with cooling functions sold well. However, the number of customers visiting stores stalled sharply due to the 7th wave of COVID-19. The shortage of semiconductors that had persisted since the previous fiscal year gradually improved, and by the end of the year, delays in the delivery of hot water heaters and other equipment had largely been resolved. In winter, anti-freeze products sold well due to a sudden cold snap. Sales of security cameras and sensor lights increased due to heightened security awareness, and sales of high-insulation window frames performed well on the back of government policies to encourage the introduction of advanced equipment, and this also contributed to net sales.
As a result of the above, net sales for the Housing-related segment for the FYE 06/20/2023 were 70,728 million yen (99.3% of 71,213 million yen for the previous fiscal year).
Life-related segment
As infectious disease viruses continued to spread and subside, people gradually became more active in going out, and sales of leisure-related products increased. Sales of travel goods and cosmetics grew, while pet food sales increased due to a focus on sales of high-performance products.
After the government announced to reclassify COVID-19 to a class 5 disease during the fiscal year under review, face masks and disinfectants, which sold extremely well during the pandemic peaked, and demand for at-home consumption, such as cooking appliances and in-house storage products also shrank. Sales of electric fans during the heat wave and oil heaters over the cold snap increased as electricity prices continued to soar and people became more conscious of saving electricity. In response to several price hikes announced by beverage manufacturers during the fiscal year under review, we managed to shift prices to sales prices at a level that would not put pressure on profit margins but could be accepted by customers. As a result of the above, net sales of the Life-related segment for the FYE 06/20/2023 were 52,633 million yen (100.6% of 52,341 million yen for the previous fiscal year).
Projected Business Results for FYE 06/20/2024 (06/21/2023 – 06/20/2024)
The projected earnings for the FYE 06/20/2024 are net sales of 134,000 million yen (up 8.6% year-on-year), operating income of 10,300 million yen (down 7.2% year-on-year), ordinary income of 11,260 million yen (down 8.0% year-on-year), and profit of 7,800 million yen (down 8.5% year-on-year).
(% indicates changes from the previous year for the full-year and from the same quarter of the previous year for the quarter)
Net sales
Operating income
Ordinary income
Profit
Profit per share
million yen
%
million yen
%
million yen
%
million yen
%
yen
1Q+2Q
67,000
7.7
5,350
(13.6)
5,810
(13.2)
4,020
(12.4)
62.07
Full year
134,000
8.6
10,300
(7.2)
11,260
(8.0)
7,800
(8.5)
120.43