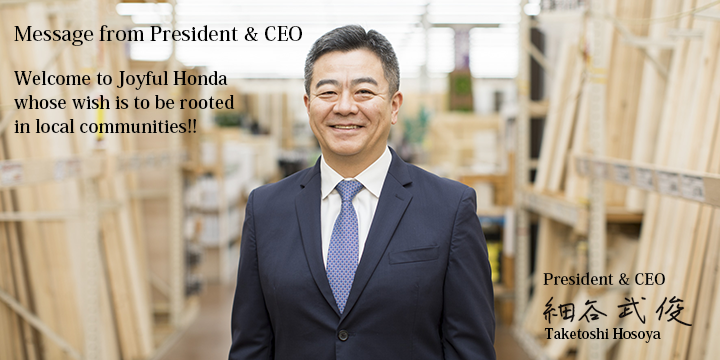 When I was in my late twenties, I went to the United States for the first time and stayed there for three years.
I remember that I was truly overcome by the huge land, the cheerful spirit of the people, and the awesome presence of gigantic shopping malls operating at the height of prosperity at that time. There was also the very fresh and strange feeling that everywhere we went, the local people were friendly called out to our Asian family: "Enjoy!"
A quarter-century has passed since that time, and our daily lives have become tremendously convenient. It is also true, however, that I miss those days when things were less convenient and less abundant than they are today. Such a feeling may be deeply connected with the fact that capitalist societies, which continuously pursued economic rationality and increased reproduction, are facing a big turning point.
In 1975, nearly half a century ago, Shoya Honda, the Company's founder, decided its name would be "Joyful Honda." He was a striking person with creative ideas and the ability to act. Those are our roots. When society at the time regarded loyalty and working diligently to be the sole principle, our founder had the vision that work should be a joy and we should create dreams together through joy. In that way he incorporated his vision into the Company's name.
Getting back to those roots, we will work on creating an organization that will not be a tiny, neat group, but will make every effort to achieve exceptional performance in unique ways.
Furthermore, we really want to be deeply rooted in local communities, so that local people in our operational areas can have a sense of attachment to us. We want to become a place that facilitates meeting, communicating, and caring for each other, and to make people feel relaxed. We also aim to serve as a store that can cheer customers up a little through a visit. While keeping our founding principle always in mind, we will take on new challenges every day. Welcome to Joyful Honda!
[Review of FYE2022]
During FYE 06/20/2022, Japan continued to suffer a tough economic environment, which mainly affected the tourism industry and the restaurant industry. A state of emergency was declared repeatedly as part of a countermeasure against the prolonged COVID-19 pandemic, and economic activities were limited because of restrictions on going out, etc. Later, vaccinations progressed and a sign of recovery in economic activities was seen, but the economic outlook remains uncertain. Amid the prolonged Ukraine situation, the hikes in prices of oil and raw materials, and rapid depreciation of the yen due mainly to the effect of U.S. monetary policy, prices are trending upward, increasing the severity of the personal consumption environment.
In these challenging circumstances, we implemented measures focused on three themes—Making Another Try to Increase Sales, Continuous Margin Improvement and Cost Control Efforts, and Active Investment for the Future.
In pursuit of Making Another Try to Increase Sales, as an action for Securing Essential Items, we strengthened the sale of original daily consumable goods and sundry supplies and the promotion of daily essential items and other products that are comfortable to use and always provided at an affordable price, to become the local top store; and as an action for Making Proposals for a Better Life, we improved our proposals linked to a video-sharing service, among other things. Moreover, to improve employees' motivation, we introduced a reward system to grant an award to employees and teams who make effective proposals to customers and contribute to develop sales floors that lead to sales promotion.
Regarding Continuous Margin Improvement and Cost Control Efforts, we continued to execute merchandising and sales floor creation with a focus on appealing to customers' potential needs. Specifically, we strived to create unique sales floors through planning and developing products that capture unscheduled consumption demand, and constantly introducing products uncovered by our buyers having good judgement, in an effort to improve corporate earnings constantly. As a result, the gross profit margin, our source of added value, has continuously improved. In addition, we merged indirect divisions, optimized staffing levels by integrating sales floors, and streamlined administrative operations by going paperless with the use of mobile devices and introducing cloud-based approval, etc., while creating a management mindset by making profit and loss figures of each sales site visible and sharable. As a result, we successfully reduced selling, general and administrative expenses.
As an Active Investment for the Future, we opened the first store of a new store brand JOYHON in front of Oyama Station (Oyama City, Tochigi Pref.) in April. This is our first restructured store with all its furnishings (excluding independent specialty stores), opened in front of a station.
We also worked on IT investment for infrastructure improvement, through installing a new digital-driven internal communication tool, a system to retain electronic data, and a system to manage ledgers of extension/reconstruction works, etc.
As a result of these efforts, net sales for FYE 06/20/2022 were 123,555 million yen (132,499 million yen for the previous fiscal year), operating income came in at 12,238 million yen (11,506 million yen for the previous fiscal year), and ordinary income posted 13,224 million yen (12,773 million yen for the previous fiscal year). Profit was 11,098 million yen (8,985 million yen for the previous fiscal year) due to the recording of a gain on sales of noncurrent assets (extraordinary income) associated with the sale of land and a decrease in tax expenses for the impairment loss of the land in the previous fiscal year.
Housing-related segment
Amid a sharp rise in the sales price of wooden materials due to a surge in prices of imported lumber, we strengthened our early procurement to ensure a stable supply, and this resulted in an increase in sales of our mainstay wooden materials such as plywood. In addition, newly introduced brand products also contributed positively to sales of work clothes that incorporate a fan, etc., and replacement demand caused by a legal change in the Industrial Safety and Health Act in connection with fall-prevention tools, helped boost sales. We also implemented an alliance project Limited Pop-Up Store with Tsuburaya Productions Co., Ltd. at nine real stores, and this contributed to net sales of hobby- and craft-related products positively. In addition, we saw an increase in sales of foliage plants and remote work-related products as a result of incorporating demand in connection with a change in consumer lifestyles, and sales of charging tools on which we strengthened promotion.
On the other hand, changes in the weather such as long periods of rain during the Bon festival holidays (in August) and other busy seasons, a delayed drop in temperatures in winter, and snowfalls etc. adversely affected the number of store visitors and sales of seasonal products. Demand that was boosted mainly by the special cash benefits payment, countermeasures taken against typhoons, and stay-at-home restrictions and preventive measures against COVID-19 in the previous fiscal year has run its course, resulting in a decrease in net sales of electric power tools, generators, furniture, and plastic space organizers, etc. In addition, due to a delay in product supply mainly as a result of the operational suspension of overseas production sites, net sales of house reforming-related products using semiconductors decreased.
As a result of the above, net sales of the Housing-related segment for the FYE 06/20/2022 were 71,213 million yen (77,203 million yen for the previous fiscal year).
Life-related segment
Sales of pet-related products including premium pet food increased as a result of our sales promotion efforts such as introducing new brand products and relocating sales spaces. Sales of rice and processed foods also grew, thanks to the effort to display and promote higher-quality products and strengthen the introduction and sale of prevailing foods.
On the other hand, unsettled weather during the summer holiday season weighed down sales of beverages and leisure goods, etc. Sales of sanitary products and general cookware and the like also fell because demand boosted by infection-prevention measures, and trends of eating at home and using disinfectant ran their course. Furthermore, sales fell for laundry detergent for which consumers' bulk buying ended, and also dropped for Eco bags, etc., for which demand was boosted in the previous year due to retail stores ceasing to provide free plastic bags.
As a result of the above, net sales of the Life-related segment for the FYE 06/20/2022 were 52,341 million yen (55,296 million yen for the previous fiscal year).
Projected Business Results for FYE 06/20/2023 (06/21/2022 – 06/20/2023)
The projected earnings for the FYE 06/20/2023 are net sales of 130,000 million yen (up 5.2% year-on-year), operating income of 11,800 million yen (up 3.6% year-on-year), ordinary income of 12,400 million yen (up 6.2% year-on-year), and profit of 8,600 million yen (down 22.5% year-on-year).
(Percentage represents comparison changes from the previous year for the full-year and from the same quarter of the previous year for the quarter)
Net sales
Operating income
Ordinary income
Profit
Profit per share
million yen
%
million yen
%
million yen
%
million yen
%
yen
1Q+2Q
64,600
3.9
6,200
(0.3)
6,500
(2.4)
4,500
(2.1)
68.06
Full year
130,000
5.2
11,800
(3.6)
12,400
(6.2)
8,600
(22.5)
130.07