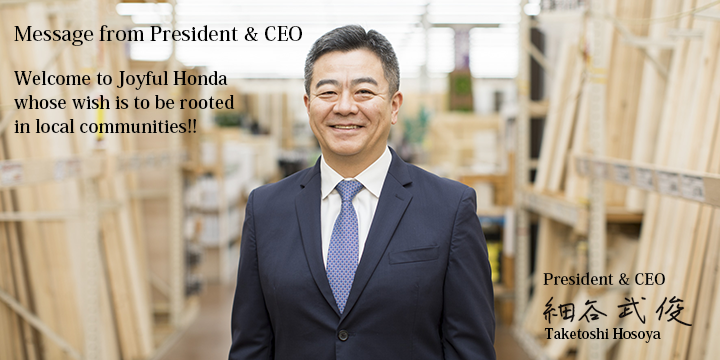 When I was in my late twenties, I went to the United States for the first time and stayed there for three years.
I remember that I was truly overcome by the huge land, the cheerful spirit of the people, and the awesome presence of gigantic shopping malls operating at the height of prosperity at that time. There was also the very fresh and strange feeling that everywhere we went, the local people were friendly called out to our Asian family: "Enjoy!"
A quarter-century has passed since that time, and our daily lives have become tremendously convenient. It is also true, however, that I miss those days when things were less convenient and less abundant than they are today. Such a feeling may be deeply connected with the fact that capitalist societies, which continuously pursued economic rationality and increased reproduction, are facing a big turning point.
In 1975, nearly half a century ago, Shoya Honda, the Company's founder, decided its name would be "Joyful Honda." He was a striking person with creative ideas and the ability to act. Those are our roots. When society at the time regarded loyalty and working diligently to be the sole principle, our founder had the vision that work should be a joy and we should create dreams together through joy. In that way he incorporated his vision into the Company's name.
Getting back to those roots, we will work on creating an organization that will not be a tiny, neat group, but will make every effort to achieve exceptional performance in unique ways.
Furthermore, we really want to be deeply rooted in local communities, so that local people in our operational areas can have a sense of attachment to us. We want to become a place that facilitates meeting, communicating, and caring for each other, and to make people feel relaxed. We also aim to serve as a store that can cheer customers up a little through a visit. While keeping our founding principle always in mind, we will take on new challenges every day. Welcome to Joyful Honda!
[Review of First Nine Months FYE2022]
During the first nine months of the current fiscal year, Japan continued to suffer a tough economic environment, with a rapid expansion of the sixth wave of COVID-19 in January, resulting in COVID-19 prevention measures under a quasi-state of emergency imposed again.
The economic outlook remains uncertain. Recovery from the COVID-19 crisis and geopolitical risks arising from the Ukraine situation have started heavily affecting the pricing and supply-demand balance in the global oil market. In Japan, price hikes of daily necessities, etc. have been implemented, giving a significant impact to people's daily lives and corporate activities.
In these challenging circumstances, we strengthened measures focused on three themes—Making Another Try to Increase Sales, Continuous Margin Improvement and Cost Control Efforts, and Active Investment for the Future—during the current period.
In regard to Make Another Try to Increase Sales, as a lifestyle advisor for unscheduled consumption at existing stores, we opened a pop-up store and strove to expand sale spaces for goods related to gardening and camping using promotional spaces. As a provider of essential items focused on scheduled consumption, we also focused on selling original products including daily necessities and miscellaneous goods.
Regarding Continuous Margin Improvement and Cost Control Efforts, we made constant efforts to improve corporate earnings. To introduce and display products that take into consideration potential consumer needs, we actively and flexibly developed and uncovered a new product that captures unscheduled consumption demand, while cross-merchandising products that have a high gross margin and displaying products in multiple spaces of a store. Moreover, to consolidate the headquarters' functions, we combined accounting divisions to simplify and streamline their administrative operations, put a remote work style in place, and utilized areas in the offices of our stores as office space for head office employees. We also streamlined store administration by implementing operational reforms, etc. In addition, we optimized staff allocation by merging sales spaces. As a result of implementing these efforts, selling, general and administrative expenses and other administration expenses were reduced.
As an Active Investment for the Future, we prepared to open a store using an existing property with all its furnishings with a new store brand. We also adopted a new internal communication tool and installed IT-driven systems including a system to retain electronic data and a system to manage ledgers of extension/reconstruction works. Regarding an employee incentive scheme, we have introduced a system to award people for effective ideas that can enhance sales promotions or serve customers, aiming to boost employee motivation.
As a result of focusing on the measures mentioned above, while reducing selling, general and administrative expenses, and total work hours, etc., profitability was improved and we secured a high level of operating profit margin.
We will continue promoting these three themes to create a stable and sustainable growth cycle.
As a result of the above, net sales for the first nine months of FYE 06/20/2022 were 91,400 million yen, with operating income at 8,836 million yen, ordinary income at 9,528 million yen, and profit at 6,562 million yen.
Sales by major segment and product group for the first nine months of FYE 06/20/2022 are as follows:
Housing-related segment
Amid a sharp rise in sale price of wooden materials due to a surge of prices of imported lumber, we strengthened our early procurement to ensure a stable supply, and this resulted in an increase in sales of our mainstay wooden materials such as plywood. In addition, newly introduced brand products also contributed positively to sales of clothing that incorporates a fan, etc., and replacement demand caused by a legal change helped boost sales. We also implemented an alliance project Limited Pop-Up Store with Tsuburaya Productions Co., Ltd. at nine real stores, and this contributed to net sales of hobby- and craft-related products positively.
On the other hand, changes in the weather such as long periods of rain during the Bon festival holidays (in August) and other busy seasons, and low temperatures in winter, adversely affected the number of store visitors and sales of seasonal products. Demand boosted mainly by the special cash benefits payment, countermeasures taken against typhoons, and stay-at-home restrictions and preventive measures against COVID-19 in the previous year has run its course, resulting in a decrease in net sales of electric power tools, generators, furniture, and plastic space organizers, etc. In addition, due to a delay in product supply due mainly to the operational suspension of overseas production sites, net sales of products related to house reforming including toilet facilities and water heaters decreased.
As a result of the above, net sales of the Housing-related segment for the first nine months of FYE 06/20/2022 were 52,091 million yen.
Life-related segment
Sales of pet-related products including premium pet food increased as a result of our sales promotion efforts such as introducing new brand products and relocating sales spaces.
On the other hand, unsettled weather during the summer holiday season weighed down sales of beverages and leisure goods, etc. Sales of masks and disinfectant hand gel products, general cookware and body washes, etc. also decreased because demand boosted by infection-prevention measures, and trends of eat-at-home and disinfectant consumption ran its course.
Furthermore, sales decreased for laundry detergent for which consumers' bulk buying ended, and Eco bags, etc. for which demand was boosted in the previous year due to retail stores ceasing to provide free plastic bags.
As a result of the above, net sales of the Life-related segment for the first nine months of FYE 06/20/2022 were 39,309 million yen.
Earnings forecasts for FYE 06/20/2022 (06/21/2021 – 06/20/2022)
For the full-year earnings forecasts, there is no change in the earnings forecasts announced on August 3, 2021.
Net sales
Operating income
Ordinary income
Profit
Profit per share
million yen
%
million yen
%
million yen
%
million yen
%
yen
Full year
131,000
0.4
11,800
2.6
12,900
1.0
9,000
0.2
129.93
Note: The Company has adopted the "Accounting Standard for Revenue Recognition" (ASBJ Statement No.29, March 31, 2020) and other standards since the beginning of the FYE 06/20/2022, and that the respective earnings estimates reported above show the amounts after which the above-mentioned accounting standard is applied. In addition, the rates of increase and decrease in the respective figures compared with the same period of the previous fiscal year are calculated on the assumption that the above-mentioned standard, etc. are applied to FYE 06/20/2021.